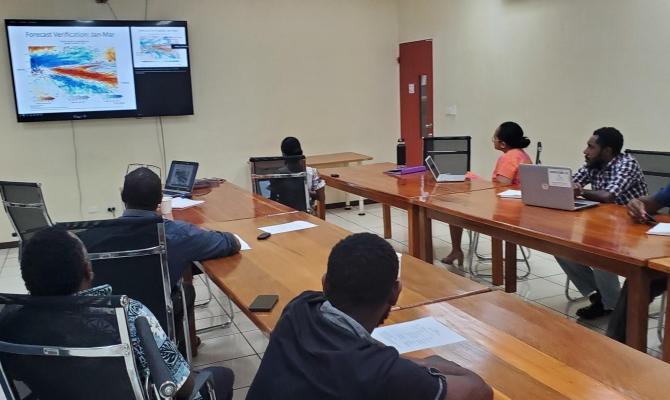 14 April 2023, Port Vila, Vanuatu – The current state of the El Niño-Southern Oscillation (ENSO) was one of the items on the agenda for discussion during the 187th session of the Online Climate and Ocean Forum (OCOF) which was convened this afternoon. 
The Bureau of Meteorology confirmed that while they have issued an El Niño Watch, the current ENSO state is still Neutral, meaning it is neither a La Niña or an El Niño. However, the Bureau are observing indicators that point towards the possible development of an El Niño event, with a 50% chance of occurring towards middle of 2023. 
The ENSO is one of the major climate drivers in the Pacific which influences the normal rainfall, temperatures, and sea level patterns across the region. El Niño is characterised by reduced easterly trade winds and warmer sea surface temperatures around the equatorial Pacific. It will result in below normal rainfall for countries in the Western Pacific, while countries in the Central Pacific region will experience higher than normal rainfall. 
The Pacific is just coming out of a triple-dip La Niña event, whereby La Niña was declared in 2020, 2021 and 2022. When asked whether it is an abnormal occurrence, coming out of a triple-dip La Niña straight into an El Niño event should it develop, Mr Grant Beard of the Australian Bureau of Meteorology said it is not necessarily so.